1-Day Trips
TRIP ITINERARY: North Fork American 1-Day Rafting Trips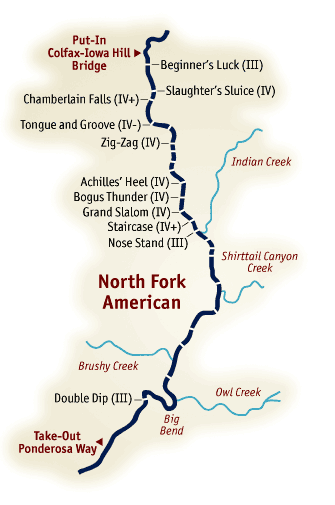 Meet: Morning in Lotus
Hour One: Sign-in, bus ride, instruction
Hour Two: Snack, Class IV+ rapids
Hour Three: Riverside lunch
Hour Four: Class IV+ rapids
Hour Five-Seven: Class I-III rapids
Hour Eight: Take-out, bus ride
Your trip begins immediately with a quarter-mile long series of waves, obstacles, and complicated maneuvers. This fast start culminates with a jolting ride through Class IV+ Chamberlain Falls rapid--a careening bend in the river followed by a commanding, sheer drop. Welcome to the first two minutes of every North Fork trip! The Class IV whitewater keeps coming, challenging your paddling skills with each rapid. Midway through the trip, we break for a satisfying lunch. Here you'll have time to really take in the magnificence of the North Fork canyon--sheer, narrow, stunning. Back to the whitewater, you'll slice through long, complicated Staircase rapid. Soon after, you'll get a chance to relax while leisurely floating through Class II-III rapids to our take-out.
During periods of high-flows, the itinerary above may be altered.


THE NEXT STEP: Plan Your Trip
If you have made your decision you can start planning your trip by visiting the "Plan Your Trip" page where we make it easy for you to check availability and make a reservation. You can also contact us during our business hours by calling (800) 247-2387.