Maps & Travel Details
Directions, What to bring & Where to stay:
Use the following links (or scroll down the page) for the information you are looking for!
Meet Place for North Fork American River Trips
The All-Outdoors River Center
1026 Lotus Rd
Lotus, CA 95651
Note: If you plan to use a GPS navigation system or online mapping service, please use in conjunction with the driving directions we provide below.
Meet Time:_______
Meet times may vary. Please refer to the information sent to you in your Trip Confirmation email, check with your group's organizer, or contact our office.
Driving Directions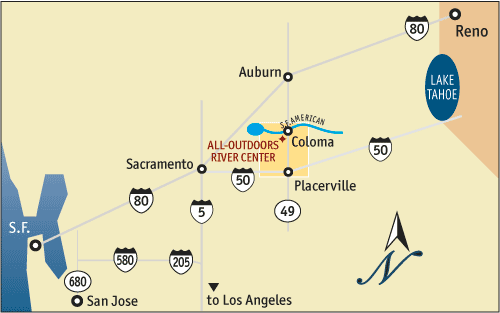 Traveling east from the Bay Area and from Sacramento on Hwy 50:
Take the North Shingle Rd/Mother Lode Dr Exit # 37 (also called Ponderosa Rd), just after Cameron Park. Turn left over the freeway and take the first right onto North Shingle Rd (after 4.5 miles it becomes Lotus Rd). Travel 10.5 miles until you get to the first stop sign at Bassi Rd.
To get to the All-Outdoors River Center continue straight on Lotus Rd after the stop sign at Bassi Rd. The entrance to our River Center is the second driveway on the left after the River Store. The entrance is marked by a wooden sign and a metal sculpture of a school of fish. Park in the parking area and sign in at the All-Outdoors check-in area under the large oak tree.
Traveling west from South Lake Tahoe on Hwy 50:
From Hwy 50 turn right (north) onto Hwy 49/Spring Street in Placerville (this is the second stoplight in Placerville). On Hwy 49, take the bend in the road to the left and follow the signs to Coloma for 7 miles. Once in Coloma, Hwy 49 passes through Marshall Gold Discovery State Park. Continue straight through the park for a 1/2 mile to the stop sign at the intersection of Lotus Rd and Hwy 49.
To get to the All-Outdoors River Center, turn left at the stop sign onto Lotus Rd in Coloma just before the Hwy crosses over the South Fork of the American River. Travel ¾ of a mile past the small town of Lotus (3 old buildings on your right) and turn into the All-Outdoors River Center entrance on your right. If you go past our River Office or get to the stop sign at Bassi Rd, you have gone a block too far.
Drive Times and Distances:
Driving Distances and Times to Meeting Place From:


Placerville: 10 mi/ 20 min
Coloma: 1 mi/ 5 min
N Lake Tahoe: 100 mi/ 2 hrs
S Lake Tahoe: 85 mi/ 1.5 hrs
Los Angeles: 425 mi/ 7-8 hrs
San Francisco: 130 mi/ 3 hrs
San Jose: 155 mi/ 3 hrs
Walnut Creek: 115 mi/ 2.5 hrs
Sacramento: 40 mi/ 50 min
Auburn: 18 mi/ 30 min
These are approximate mileages and driving times and do not take into account any delays or stops. Please allow a little extra time to assure correct arrival time to the meeting place. Thank you!
General Information:
What's Included

Professional Guide, instruction, and equipment (April through May, see Wetsuit Information for added rental cost.)
Delicious fresh meals
River shuttle by bus to and from the Meet Place for your trip

What to Bring

Personal medicine
Change of clothing for ride home
Waterproof sunblock, sunglasses with strap, hat, visor (optional)
What to Wear

Swimsuit
Quick-drying shorts to wear over swimsuit is recommended for more comfort
Athletic shoes that are lace-up, no slip-ons or thongs
Long-sleeve shirt and pants for added sun protection and/or extra layering
Wool or fleece sweater/jacket, waterproof jacket or wetsuit (usually required in April through mid-May, and in inclement weather)
While on the river, you need little other than your river attire. There is limited space available in a water-resistant bag for additional items, such as rain gear or medication, that you might need during the day (no towels, please). This bag is usually available only during the lunch stop.
NOTE: For your comfort and safety, special clothing items, including a wetsuit, are usually required April through May on the North Fork of the American, or during periods of inclement weather. If your trip takes place during a time period when wetsuits are required, see "Wetsuit Information."
Please Do Not Bring:
Expensive watch, jewelry, radio, pets, or camera without water protection. Please note that storage of keys, wallets, and other valuables is the participant's responsibility.
River Conditions (Real Time)
Real-time flow information is available for the North Fork of the American River on our Updated River Conditions page.
Local Weather
The important thing to remember about the weather in the Sierra Foothills is that it can change on short notice. It is always best to be prepared for any kind of weather situation.
Seasonal patterns do exist. In April and May, days are generally breezy and warm (60-70 degrees). Nights can be in the 50's; generally cooler during the earlier spring trips. The summer months are usually hot and dry (85-100 degrees). Night temperatures can range from the low 60's to the low 70's.
Even though these patterns exist, it is not uncommon to get a 90 degree day in May and a breezy, rainy day in June or July. It is always important to bring sun protection and cold weather gear to the river. You can decide which is most appropriate once you have arrived.
For specific questions, contact our Reservations office at (800) 247-2387.
Accommodations:
Campgrounds
Camp Lotus: Lotus, (530) 622-8672
Advance reservations are required.
Hotels and B&B's
Cabins at Camp Lotus: Lotus, (530) 622-8672
Located only a mile from the All-Outdoors River Center, Camp Lotus offers lodging in their American River Cabins and Yuba River Cabin. These lovely cabins provide quiet, privacy, and a little bit of luxury in the Coloma Lotus Valley. The Yuba River Cabin features a full kitchen, wood burning stove, and private yard. The smaller American River Cabins are perfect for couples and have access to the river.
Eden Vale Inn: Coloma, (530) 621-0901
Just 5 minutes down the road from AO's River Center in Lotus, Eden Vale is the newest Bed & Breakfast in town. The owners transformed a rustic 1919 barn into an elegant but casual and modern B&B surrounded by lush gardens, a trout pond and local views. There are five private, uniquely-appointed rooms. Rates include a full breakfast. This is a wonderful choice for those looking for a romantic getaway.
The Historic Cary House Hotel: Placerville, (530) 622-4271
About 20 minutes from the All-Outdoors River Center in Lotus, the Cary House offers 38 guest rooms and suites with private bath, TV, telephone, and air conditioning. No two rooms are the same at the Cary House and it is the perfect venue for your stay in the gold country. The Cary House will give a $20 discount off their room rates for guests of AO.
The American River Inn: Georgetown, (800) 245-6566 or (530) 333-4499
Located 20 minutes from our South Fork meet up place in Lotus and 50 minutes from our meeting place in Foresthill for the Middle Fork trips, this is a unique place to stay in the heart of gold rush country! The inn has 13 rooms and suites with either private or shared bathrooms. Restored and decorated in Country Victoriana, room rates include a gourmet breakfast for two, wine, and hors d'oeuvres each afternoon.

Best Western Placerville Inn: Placerville, (800) 854-9100 or (530) 622-9100
A reliable chain hotel located about 20 minutes from the All-Outdoors River Center in Lotus. Each room has a refrigerator, microwave, and private bath. Complimentary hot and cold breakfast buffet.
Courtyard by Marriott in Folsom: Folsom, (916) 984-7624
A Marriott hotel featuring comfortable rooms and suites located near Folsom Lake and about 30 minutes from the All-Outdoors River Center in Lotus. The Courtyard has an in-house restaurant and pool and is located near restaurants and other services.
Surrounding Attractions:
Boeger Winery: Placerville, (530) 622-8094
Family-owned and operated since the 1970s and growing over 28 varietals, Boeger Winery is particularly known for its Barbera. This award-winning winery's beautiful grounds are a popular spot for post-tasting picnics. Tours available by appointment.
Jack Russell Farm Brewery: Camino, (530) 647-6222
Visit a real English farm brewery for tours, tastings, and special events. Tours of the facility's modern brewing and bottling equipment are available upon request. Visitors are invited to linger and enjoy the pub-like environment of the tasting room and the serenity of the adjacent picnic area.
Madroña Vineyards: Camino, (530) 644-5948
El Dorado County's highest-elevation vineyard and winery producing premium hand-crafted wines. This family run and operated winery is nestled in a forest of pines and cedars. This is the perfect day-trip destination.