MORE ABOUT THE SOUTH FORK AMERICAN RIVER:
The South Fork American River offers all the qualities that make river rafting incredibly fun: lively, approachable rapids, splashing waves, and classic California scenery. It's also easily accessible from major highways--and if you come in early spring (Apr-May), midweek in July and August, or during fall and winter, you'll avoid summer's crowds and practically have the river to yourself.
THE RAPIDS: Exhilarating But Not Intimidating
Though the rapids have overwhelming names like "Troublemaker" and "Satan's Cesspool," they are not too intimidating themselves. Exciting enough to get your heart pumping, they are still reasonable enough for kids as young as eight years old to enjoy. Most consist of large waves or swift bends in the river. And all of them are followed by calm pools, which makes it easy to re-group and get prepared for the next thrill ride.
Unlike more difficult rivers where we must constantly concentrate on maneuvering the boat, the South Fork allows lots of time for joviality with your friends and family. Water fights are legendary on the South Fork. And if it's always been your dream to swim in a river, you'll have time for that, too. It's this ability to create moment after moment of true reverie with your friends and family that sets the South Fork apart. Your South Fork trip will create memories that will honestly last a lifetime.
THE RIVER SCENERY: Rolling Sierra Nevada Foothills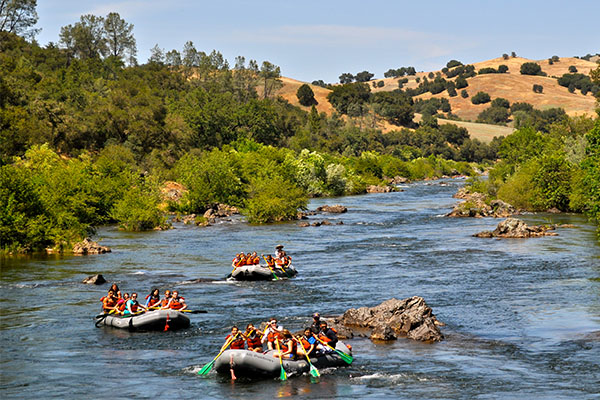 The South Fork lies in the golden hillsides of the Sierra Nevada foothills, just forty miles east of Sacramento. The river winds through the tiny hamlet of Coloma--the town where gold was first discovered in California in 1848. The remainder of the river flows through a picturesque canyon-- in the spring, the hills are sprinkled with blooming wildflowers; in the summer, the hillsides bend toward the sky in a creamy caramel hue. Oak, willow and pine trees dot the riverbanks. Ducks and geese float quietly in the calm pools.
RIVER LOCATION:
Fifty Minutes from Sacramento, 1 1/2 Hours from Lake Tahoe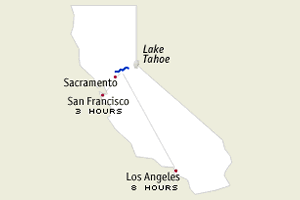 Because the South Fork is so close to many metropolitan areas, it's easy to go on a rafting trip yet still arrive back home with plenty of time to relax. On our Express trip option, you could even raft in the morning and then have time to go hiking in Lake Tahoe in the afternoon. If you're looking to escape the world for the weekend, our 2-Day option will allow you to enjoy the river on a more leisurely schedule--and you'll have the opportunity to see both sections of the river.
TYPICAL RAFTING SEASON:
April - October (all itineraries), year-round (Express trips only) *
If you like what the South Fork has to offer but desire rapids that are a bit more challenging, you should try the South Fork during the spring run-off months. April through May the melting snow in the Sierra makes the water levels on the South Fork climb-- sometimes as high as 5-6,000 cubic feet per second (normal flows hover around 1,200 cfs). This makes for an exhilarating ride. Rapids that are usually tame grow and become more challenging. The current picks up speed and the hydraulics get larger.
In contrast, during the months of June-Oct, river flows are usually a consistent, less intimidating level. This is the best time for families, first-time rafters, and groups to raft the South Fork. For a unique rafting experience, water releases are guaranteed Nov-Mar on the weekends.
* Season length, river flows, and days of water releases may vary. For this year's flow predictions and real-time water levels go to the River Flows page.
MEALS: Freshly prepared riverside feasts
On 1-Day trips, our lunch begins with tortilla chips, salsa, and fresh summer fruits. Our gourmet "build-your-own" sandwich bar includes all the fixings needed to assemble the perfect sandwich to your preference. We also provide a beverage, and cookies to finish it off. On 2-Day trips dinner and breakfast are freshly prepared from a selection of healthy ingredients and cooked to perfection in the ambiance and beauty of our riverside camp.
If you have special dietary requirements, we encourage you to tell us at the time of your reservation. We will do our very best to accommodate your needs.
GUEST INVOLVEMENT: How You Participate in Rafting the River
During normal water flows, All-Outdoors runs paddle raft trips on the South Fork. In a paddle raft, each guest and the professional guide have a paddle and navigate the river, working as a coordinated team. If paddling doesn't sound inviting, you may request an oar raft. In an oar raft, a professional guide steers the boat with oars while guests simply enjoy the ride. If you would like the option to paddle or not, we also use oar-paddle combination rafts (a professional guide steers the boat with oars while simultaneously calling commands to paddlers in the boat). Please call our office far in advance of your trip to request either an oar raft or oar-paddle raft (subject to availability and additional charges may apply). All guests should be able to swim.
GROUP TRIPS: We Can Accommodate Groups as Large as 300 People
One of our specialties is creating fun and memorable whitewater rafting trips for small or large groups. We have the largest government permit on South Fork of the American, so we can accommodate almost any size group.
What Type of Group Trip are You Looking For?
Our reservation specialists can help you through every step of the planning process. To learn more about our group-specific discount plans & packages, visit our Groups Rafting Trips page.
THE NEXT STEP: Explore Trip Options or Begin the Booking Process
To learn more about our South Fork American River rafting trips, explore our Express, 1-Day, & 2-Day trip options. If you want to start booking your trip now, you can call our office at (800) 247-2387 during business hours or check for available space online.