2-Day Rafting Trips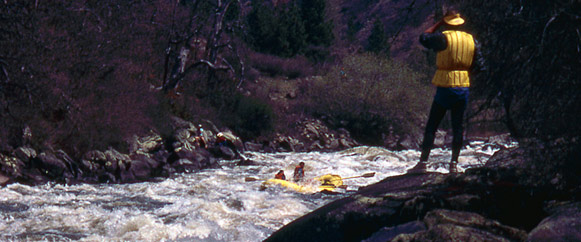 Two days of challenging whitewater, on a remote National Wild and Scenic River. Beautiful scenery, unique volcanic canyon, wildlife.
Class III & Class IV+ both days
34 hours, 24 miles
Lunch, dinner, breakfast, lunch
$469
Monday -Thursday departures
$489
Friday, Sunday departures
$509
Saturday departures

TRIP ITINERARY: Upper Klamath 2-Day Rafting Trips:
DAY ONE: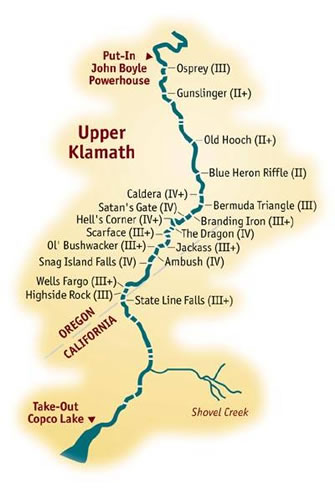 Meet: 8:00 am, in Hornbrook
Hour One: Sign-in, bus ride
Hour Two: Instruction, paddling practice
Hour Three: Class II-III rapids
Hour Four: Riverside lunch
Hour Five-Seven: Class IV rapids in Hells Corner Gorge
Hour Eight: Take-out, bus ride to Camp
Hour Nine: Set-Up Camp above Caldera
Hour Ten: Relax, hors d'oeuvres
Hour Eleven: Dinner
Hour Twelve: Campfire, dessert, revelry!
Hour ? Fall asleep under the stars

DAY TWO
Hour One: Coffee, breakfast
Hour Two: Relax
Hour Three: Break camp
Hour Four-Five: Class IV rapids in Hells Corner Gorge
Hour Six: Riverside lunch
Hour Seven: Class IV rapids in Hells Corner Gorge
Hour Eight: Class II-III rapids after Stateline Falls
Hour Nine: Copco Lake, take-out
Hour Ten: Bus ride
Your 2-Day trip on the Upper Klamath will combine some of the most exciting and continuous whitewater on the west coast with an overnight camping experience in a National Wild and Scenic River Canyon. A unique and amazing aspect of your overnight trip on the Upper "K" is that you get to see a new section of river each day, and you will get to raft the most exciting middle section twice. Our Upper "K" trip starts with a fun Class II-III five-mile warm-up beginning with the Class III Osprey Rapid. You will stop and enjoy a delicious deli sandwich lunch, freshly prepared by your guides. After lunch, the river gets steeper and more challenging as we enter Hell's Corner Gorge, six miles of continuous Class IV whitewater rapids including Caldera, Branding Iron, Satan's Gate, and Hell's Corner, the rapid that this run was named after. Following Hell's Corner, there are numerous Class IV rapids including Scarface, Ambush, Snag Island Falls, and Stateline Falls, at the California-Oregon border. After Stateline, you will be driven back upstream to a remote wilderness camp above Caldera Rapid where all of your camping gear will be waiting for you. In camp you can relax, fish, and explore, while your guides prepare a feast of delicious appetizers, dinner, and dessert. The next morning, after coffee and a hearty breakfast, you get to raft the continuous, challenging, Hell's Corner Gorge one more time. Lunch will be served in California, below Stateline Falls, followed by another six miles of beautiful Class II and III whitewater and ending at Copco Lake.
Note that the itinerary above describes a typical trip. Your trip's itinerary might be slightly different.

THE NEXT STEP: Select A Trip
You may want to check out our 1-Day trip option if you have not done so already. If you have made your decision you can start planning your trip by visiting the Plan Your Trip page where we make it easy for you to check availability and make a reservation. You can also contact us during our business hours by calling (800) 247-2387.