1-Day Rafting Trips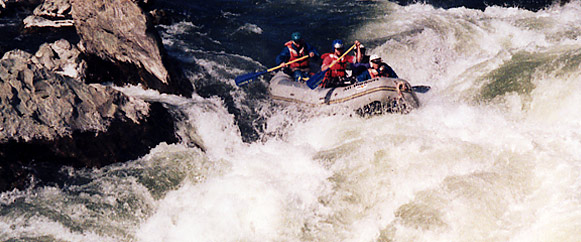 Action-packed day of over 30 rapids in a Wild and Scenic volcanic river canyon
Class III morning, Class IV+ afternoon
10 hours, 12 miles
Lunch included
$269
TRIP ITINERARY: Upper Klamath 1-Day Rafting Trips: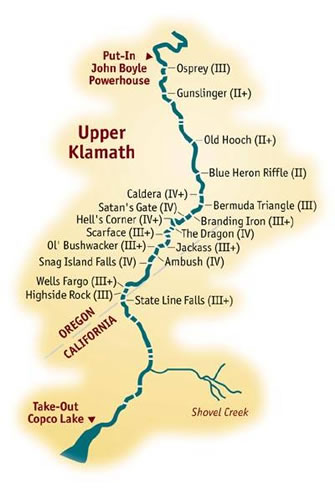 Meet: 8 am in Hornbrook
Hour One: Sign-in, bus ride
Hour Two: Instruction, paddling practice
Hour Three-Four: Class II-III rapids
Hour Five: Riverside lunch
Hour Six-Eight: Class IV rapids
Hour Nine: Take-out, bus ride
Your Upper "K" trip begins with a fun Class II-III five-mile warm-up starting with the Class III Osprey Rapid. This is the perfect time to get in the rhythm of paddling as a team and to enjoy the wildlife and scenery in the Upper Klamath River canyon. When we stop for lunch, you'll enjoy a gourmet deli sandwich lunch, freshly prepared by your guides. After lunch, the river gets steeper and more challenging as we enter Hell's Corner Gorge, six miles of continuous Class IV whitewater rapids. The excitement begins below the historic Frain Ranch starting with Caldera, a long, steep, technical chute that will test your paddling skills and get your adrenaline pumping. Just below Caldera, rapids such as Branding Iron and Satan's Gate lead into Hell's Corner, a half-mile Class IV+ thriller that ends with a steep drop called the Dragon's Tooth. Following Hell's Corner, there are numerous Class IV rapids including Scarface, Ambush, Snag Island Falls, and Stateline Falls, at the California-Oregon border.

THE NEXT STEP: Select A Trip
You may want to check out our 2-Day trip option if you have not done so already. If you have made your decision you can start planning your trip by visiting the Plan Your Trip page where we make it easy for you to check availability and make a reservation. You can also contact us during our business hours by calling (800) 247-2387.