Maps and Travel Details
Directions, What to bring & Where to stay:
Use the following links (or scroll down the page) for the information you are looking for!
Maps & Directions:
Meet Places for Cherry Creek / Tuolumne Combo River Trips
Casa Loma store
24000 Casa Loma Rd
Groveland, CA 95321
Note: If you plan to use a GPS navigation system or online mapping service, please use in conjunction with the driving directions we provide below.
Crescendo Option Meet Time: 9:00 am
All-Outdoors Tuolumne/Cherry Creek "Crescendo" trips usually meet at 9:00 am, but keep in mind that meet times may vary. Please refer to the information sent to you in your Trip Confirmation email, check with your group's organizer, or contact our office.
For Crescendo trips, Cherry Creek pre-trip orientation will take place on the water during the Main Tuolumne portion of the trip. For trips with multiple days off in between, guests must attend the pre-trip orientation the evening prior to the Cherry Creek portion of their trip.
Downstream Extreme Option Meet Time: Pre-trip orientation, 7:00 pm the evening before your trip
After this pre-trip meeting is over participants are free to go and will reassemble back at the Casa Loma store early the next morning to make final preparations for the day ahead.
Cherry Creek Pre-Trip Orientation for all trips:
Because of the difficulty of this run, All-Outdoors Cherry Creek trips are designed specifically for education and teamwork - two important elements of successful Class V adventures. Participants take part in discussions, demonstrations, and exercises in preparation for the river's challenges. Advanced rafting techniques are covered along with a detailed description of this incredible stretch of whitewater. Teamwork involving everyone is essential so the pre-trip orientation serves both as an education in Class V rafting, and as a rewarding time for team building.
Driving Directions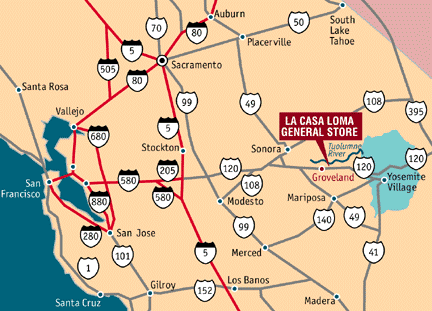 (Please use a California map in conjunction with this map.)
Casa Loma store is located 8 miles east of the town of Groveland on Hwy 120 at Ferretti Road. (NOTE: Ferretti Road is a loop with the west end in Groveland and the east end at Casa Loma Rd.)
Traveling east on Hwy 120, Casa Loma store is on the left side of Hwy 120 at Ferretti Road. Parking is available in the dirt area just east of the store. Cars may be left there for the duration of the trip.
Drive Times and Distances:
San Francisco: 140 mi/ 3 hrs
San Jose: 140 mi/ 3 hrs
Walnut Creek:125 mi/ 2.5 hrs
Sacramento: 115 mi/ 2.5 hrs
Los Angeles: 385 mi/ 7 hrs

Yosemite Valley: 40 mi/ 1 hr
Modesto: 80 mi/ 2 hrs
Lake Tahoe: 185 mi./ 4.5 hours
San Diego: 510 mi/ 9 hrs
These are approximate mileages and driving times and do not take into account any delays or stops. Please allow a little extra time to assure correct arrival time to the meeting place. Thank you!
Most people drive to the meeting place as there is no public transportation available. The Modesto and Stockton airports are the closest airports to Groveland with scheduled commuter flights (United Express). You may rent a vehicle from these locations (Hertz and Avis). A private airstrip is located at Pine Mountain Lake in Groveland.
General Information:
What's Included
Professional Guide, instruction, and equipment (Wetsuits are required on the Cherry Creek portion of all combo trips. You are welcome to bring your own wetsuit, otherwise one will be provided for you. See Wetsuit Information for more details.)
Delicious fresh meals
River shuttle by bus to and from the Meet Place for your trip

What to Bring
Personal medicine
Change of clothing for ride home
Waterproof sunblock, sunglasses with strap, hat, visor (optional)
What to Wear
Swimsuit
Wetsuit (Required on the Cherry Creek portion. Bring your own or one will be provided for you. See Wetsuit Information for more details)
Quick drying shorts to wear over swimsuit is recommended for more comfort
Athletic shoes that are lace-up (no slip-ons or thongs)
Long-sleeve shirt and pants for additional sun protection and/or extra layering
Wool or fleece sweater/jacket, waterproof jacket (usually required in April through June, and in inclement weather)
While on the river, you need little other than your river attire. There is limited space available in a water-resistant bag for additional items, such as rain gear or medication, that you might need during the day (no towels, please). This bag is usually available only during the lunch stop and at camp.
Additional Items for Overnight Trips:
Remember to pack light since everything is carried by raft into this wilderness canyon and space is limited. Please have your camp gear ready to be packed in a water-resistant bag. Just the minimal toiletry items are needed since the camps do not have running water or electricity. Upon arrival at camp, the guides will set up the camp kitchen; plates and eating utensils are provided.
Camp clothes: one pair of pants, shirt, dry shorts, jacket, dry shoes and socks, sturdy sandals
Camping gear: sleeping bag, pad, ground cloth, tent (optional), toiletry items, insect repellent, flashlight
Optional items for downtime at camp: journal, book, deck of cards, collapsible fishing gear in container
Please Do Not Bring:
Expensive watch, jewelry, radio, pets, camera without water protection. Space is limited on the boat . Please note that storage of wallets, and other valuables is the participant's responsibility.
River Conditions (Real Time)
Real-time, up to the hour flow information is available for the Tuolumne River on our Updated River Conditions page.
Local Weather
The important thing to remember about the weather in the Sierra Foothills is that it can change on short notice. It is always best to be prepared for any kind of weather situation.
Seasonal patterns do exist. In April and May, days are generally breezy and warm (60-70 degrees). Nights can be in the 50's; generally cooler during the earlier spring trips. The summer months are usually hot and dry (85-100 degrees). Night temperatures can range from the low 60's to the low 70's.
Even though these patterns exist, it is not uncommon to get a 90 degree day in May and a breezy, rainy day in June or July. It is always important to bring sun protection and cold weather gear to the river. You can decide which is most appropriate once you have arrived.
For specific questions, feel free to contact our Reservations office at (800) 247-2387.
Accommodations:
Hotels and B&B's
Groveland Hotel: Groveland, (209) 962-4000
The historic Groveland Hotel is in the heart of downtown Groveland and about 20 minutes from the All-Outdoors meet place at the Casa Loma store. This is a Victorian hotel featuring 17 themed rooms, each with a feather bed, private bath, and coffee brewer. Rates include a complete breakfast. The Groveland Hotel is known for its fully-stocked wine cellar and full service restaurant. Meals and drinks can be enjoyed out-of-doors on their lovely verandah. AAA discount.
Hotel Charlotte: Groveland, (209) 962-6455
Hotel Charlotte is located in downtown Groveland and about 20 minutes from the All-Outdoors warehouse at the Casa Loma store. Innkeepers Doug and Jenn Edwards invite you to enjoy the ambience of an "Old West" boutique hotel with stellar service, or one of their vacation rentals. The inn is home to the highly-rated Fork & Love Restaurant. Complimentary buffet breakfast included.
All Seasons Groveland Inn: Groveland, (209) 962-0232
Located in Groveland and about 20 minutes from the All-Outdoors meet place at the Casa Loma store, this small downtown B&B is a blend of modern room amenities and old world charm. Each room displays a scenic wall mural painted by a local artist. Rooms come with a refrigerator, fireplace, TV, coffee station, and a small private bath, kitted out with either a steam room or Jacuzzi tub. Full hot breakfast is included.
Yosemite Rose: Groveland, (866) 962-6548
Located off the main highway less than 10 minutes from the All-Outdoors meet place at the Casa Loma store, this B&B is a replica of a Bay Area mansion from the late 1800's 'Italianate Revival' period. From this quiet 90 acre property, ambitious guests can hike to Clavey Falls, one of the Main Tuolumne's most challenging rapids or take an easy stroll to the trout pond. Other on-site activities include horse trail rides, billiards, a piano in the music room, or a massage. Manor house guests enjoy a full country breakfast. Rooms are elegantly appointed. The owners also rent a charming cabin. Military Discount available.
Big Creek Meadow Ranch: Groveland, (209) 962-1942
This 165-acre working guest ranch is across the highway from the All-Outdoors meet place at the Casa Loma store! Please note: Check-in to the guest ranch is handled by the All Seasons Groveland Inn in downtown Groveland. There are two bedrooms that are simply decorated but warm and inviting with knotty pine walls. There is also a "Camper" parked on the property that is a casual and fun alternative to the standard room experience. After a day of rafting or a game of badminton, horseshoes, or croquet; ranch guests can ease into the back-deck hot tub for some star gazing. Nearby dining at the 49er in Buck Meadows.
Blackberry Inn at Yosemite: Groveland, (888) 867-5001
Once a quintessential country farmhouse with a wraparound porch, this luxurious inn in the forest was expanded to a total of 10 bedrooms in two buildings. It is gracious and welcoming and very close to the All-Outdoors meet place at the Casa Loma store! Each room comes with a delicious, full breakfast. Nearby casual dining available at the 49er in Buck Meadows.
Yosemite Westgate Lodge: Groveland, (209) 962-5281 or (800) 253-9673
This easy to find hotel is located about 10 minutes from the All-Outdoors meet place at the Casa Loma store. In addition to standard rooms, they have many "family-style" rooms with a dining area with microwave and refrigerator. Relax in the heated pool. Nearby dining at the 49er in Buck Meadows.
Rush Creek Lodge: Groveland (209) 379-2373
Opened in June 2016, Rush Creek is only 25 minutes from the All-Outdoors meet place at the Casa Loma store. This lodge is a sister property to The Evergreen Lodge. There are 143 lodge rooms, suites, and hillside villas with modern amenities. Rush Creek Lodge offers a fine dining restaurant and casual tavern. They also have a bar at the pool.
The Evergreen Lodge: Groveland, (209) 379-2606 or (800) 935-6343
About 40 minutes from the All-Outdoors meet place at the Casa Loma store. This is a woodsy 1921 Lodge, bordering Yosemite National Park. It offers a variety of accommodations from furnished traditional and family cabins to newer one-bedroom cottages, as well as camping in one of their fully-setup campsites. The property has on-site fine dining and lighter fare and cocktails in the rustic, all-wood tavern. The lodge provides a variety of guided tours and activities in and around Yosemite. Tired and sore guests can also enjoy an on-site massage!
Campgrounds
Yosemite Lakes Preserve: Groveland, (877) 570-2267
Part of the Thousand Trails/NACO camping system, this resort property offers non-member tent and RV campsites, yurts, bunkhouse cabins and a hostel. Located along the South-Fork Tuolumne River, guests can rent paddle boats & kayaks, swim, fish, and bike.
Yosemite Pines RV Park: Groveland, (209) 962-7690
About a 20 minutes drive to our meet place, this resort-style facility offers tent and RV camping, a variety of cabin sizes, and yurts. The grounds include a general store, laundry room, new swimming pool, exercise trail, club-house, playground and petting zoo. Family pets are welcome although there are no kennels.
USFS Campgrounds: (209) 962-7825
There are ten USFS campgrounds within the Groveland Ranger District. Those mentioned below are on Hwy 120 and are nearest to the AO meet place. These developed sites use well water and have pit toilets. Large trailers or RVs can not be accommodated. No advance reservations are taken. Call the above number for more information.
Sweet Water: 13 miles east of Groveland
The Pines: 8 miles east of Groveland (no phone)
Lost Claim: 13 miles east of Groveland
Yosemite National Park: (209) 372-0200
The Park contains 13 popular camp grounds with 7 taking advance reservations. Use the link for more information.
Moccasin Pt. Campground: (209) 852-2396
Located on Lake Don Pedro eight miles west of Groveland on Hwy 120, about 30 minutes from our meeting place, this campground offers both tent and R.V. sites. Reservations accepted.
Surrounding Attractions:
If you plan to spend additional time in the area before or after your trip, there are many interesting places to visit. The entrance to Yosemite National Park is on Hwy 120 and 16 miles east of the meet place for our Tuolumne trips. Any reservations for accommodations in Yosemite Park should be made well in advance of your visit. Visit the Virtual Visitors Center or call (209) 372-0200 for general park information.
Pine Mountain Lake is a resort community in Groveland that has houses and condominiums available for rent on a daily basis. Staying in these facilities is an excellent way for individuals or groups to relax together before, and/or after a rafting trip. For more information visit Pine Mountain Realty or call (209) 962-7156.
If Gold Rush era history is of interest to you, Hwy 49 connects with Hwy 120 near Groveland. Hwy 49 runs the length of the "Gold Rush Country" taking you through quaint, historic towns and beautiful Sierra Foothills scenery. For detailed information, visit the Tuolumne County Visitors Bureau or call (800) 446-1333.