1-Day Trips

Long day of rafting through a scenic 2000 foot-deep remote wilderness canyon.

Class III-IV morning, Class II mid-day, Class III-IV afternoon
9 hours, 16 miles
Lunch included
$149
Monday-Friday
$179
Saturday, Sunday
TRIP ITINERARY: Middle Fork 1-Day Rafting Trips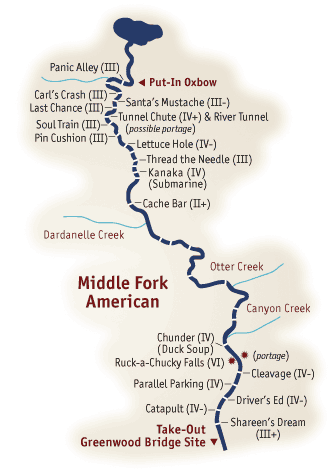 Meet: 8:00 am, Foresthill
Hour One: Sign-in, bus ride, instruction
Hour Two-Three: Class III-IV rapids
Hour Four: Snack, Class II rapids
Hour Five: Riverside lunch
Hour Six: Class II rapids
Hour Seven: Class IV rapid, portage
Hour Eight: Class IV rapids
Hour Nine: Take-out, bus ride

The river begins immediately with boisterous Class III Panic Alley Rapid. For the next two miles, you'll encounter rapid after rapid until we reach Class IV Tunnel Chute Rapid--a frothing 80-foot chute which ends with a six-foot drop just before it empties into a 90-foot tunnel! But the river has just begun. Not until six miles downstream from put-in does the whitewater begin to mellow after the tumultuous Class IV Kanaka Rapid. At this point you'll have time to relax as we float through a calming Class II section. You'll stop to have a freshly prepared deli lunch along the way. After lunch, you'll encounter more easy water before getting to Class IV Chunder Rapid--a five-foot drop that will make you gasp. Immediately after Chunder, you'll watch your guides portage the boats around a Class VI 30-foot waterfall called Ruck-a-Chucky. Then it's back in the boats for a swift succession of five burly Class III-IV rapids before we reach our take-out.
During periods of high-flows, the itinerary above may be altered.

THE NEXT STEP: Plan Your Trip
You may want to check out our 2-Day and 3-Day trip options if you have not done so already. If you have made your decision you can start planning your trip by visiting the " Plan Your Trip " page where we make it easy for you to check availability and make a reservation. You can also contact us during our business hours by calling (800) 247-2387.