Maps and Travel Details

Directions, What to bring & Where to stay:
Use the following links (or scroll down the page) for the information you are looking for!
Maps & Directions:
Meet Place for Merced River Trips
Across the street from Midpines Country Store (Also known as Mt View Grocery)
6428 Highway 140
Midpines, CA 95345
Note: If you plan to use a GPS navigation system or online mapping service, please use in conjunction with the driving directions we provide below.
Meet Time:
All-Outdoors Merced trips usually meet between 9:00am & 10:30am, but keep in mind that meet times may vary. Please refer to the information sent to you in your Trip Confirmation email, check with your group's organizer, or contact our office.
Driving Directions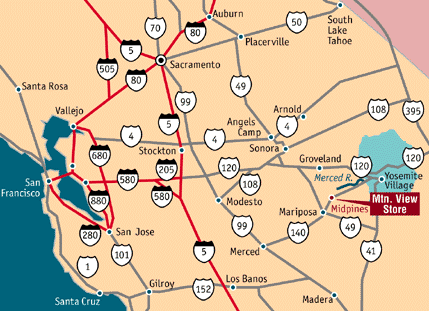 (Please use a California map in conjunction with this map).
The AO Meet Place is located across the street from the Midpines Country Store on Hwy 140 in the small town of Midpines.
Traveling EAST on Hwy 140: The Meet Place is 7 miles east of the Mariposa Hwy 49/140 junction.
Traveling WEST on Hwy 140: The Meet Place is 35 Miles west of the Hwy 140 Yosemite Park Entrance.
(Currently, there are restrictions in effect on Hwy 140 between Midpines and El Portal due to the Ferguson Rock Slide. There are temporary bridges in place to detour vehicles around the rock slide. The length of all vehicles is restricted to 45 feet. For current road conditions click here).
NOTE: The most direct route from the S.F. Bay Area is east on Hwy. 580 to 205 to 99 to 140. The most direct route from Southern California is Hwy. 5 to 99 to 140.
Drive Times and Distances:
San Francisco: 180 mi/ 3.5 hrs
San Jose: 165 mi/ 3 hrs
Walnut Creek: 150 mi/ 2.5 hrs
Sacramento: 150 mi/ 3 hrs
Los Angeles: 310 mi/ 5.5 hrs
Merced: 50 mi/ 1 hr
Mariposa: 7 mi/ 10 min
El Portal: 20 mi/ 30 min
Yosemite Valley: 35 mi/ 45 min
General Information:
What's Included

Professional Guide, instruction, and equipment (April through May, see Wetsuit Information for added rental cost.)
Delicious fresh lunch
River shuttle by bus to and from the meet place for your trip
What to Bring
Personal medicine
Change of clothing for ride home
Waterproof sunblock, sunglasses with strap, hat, visor (optional)
What to Wear
Swimsuit
Quick drying shorts to wear over swimsuit is recommended for more comfort
Athletic shoes that are lace-up, no slip-ons or thongs
Long-sleeve shirt and pants for added sun protection and/or extra layering
Wool or fleece sweater/jacket, waterproof jacket or wetsuit (usually required in April through mid-June, and in inclement weather)
While on the river, you need little other than your river attire. There is limited space available in a water- resistant bag for additional items, such as raingear or medication, that you might need during the day (no towels, please). This bag is usually available only during the lunch stop.
Please Do Not Bring:
expensive watch, jewelry, radio, pets, camera without water protection. Space is limited on the boat. Please note that storage of keys, wallets, and other valuables is the participants responsibility.
River Conditions (Real Time)
Real-time, up to the hour flow information is available for the Merced River on our Updated River Conditions page.
Local Weather
The important thing to remember about the weather in the Sierra Foothills is that it can change on short notice. It is always best to be prepared for any kind of weather situation.
Seasonal patterns do exist. In April and May, days are generally breezy and warm (60-70 degrees). Nights can be in the 50's; generally cooler during the earlier spring trips. The summer months are usually hot and dry (85-100 degrees). Night temperatures can range from the low 60's to the low 70's.
Even though these patterns exist, it is not uncommon to get a 90 degree day in May and a breezy, rainy day in June or July. It is always important to bring sun protection and cold weather gear to the river. You can decide which is most appropriate once you have arrived
For specific questions, contact our Reservations office at (800) 247-2387.
Accommodations:
Campgrounds
BLM Merced River Recreation Area: between Briceburg and Bagby, (209) 379-9414
Only about 20 minutes from the AO meet place, this location allows you to enjoy camping along the beautiful Merced River in three campgrounds. Sites are first-come first-serve and each offers fire grills, picnic tables, pit toilets, garbage collection, and access to the Merced River. Campgrounds are accessible only by crossing the narrow bridge at Briceburg and heading down river on the road (old Yosemite Valley Railroad grade). Trailers and RV's over 18 feet are not recommended to cross the bridge.
Bagby Recreation Area on Lake McClure: Info (209) 378-2521, Reservations (800) 468-8889
One of 5 recreation areas located on Lake McClure and Lake McSwain, Bagby is about a 45 minute drive on Hwy 49 to our meet place. This recreation area offers 30 campsites, 10 water/electricity hookups, and 5 picnic units. Visitors have access to sandy beaches, swimming, hot showers, two comfort stations, fish cleaning station, and one boat launching lane.
Yosemite National Park: (800) 436-7275
13 popular campgrounds are located within Yosemite National Park, of which up to seven are on a reservations system. Reservations are highly recommended, especially during April through September, and even first-come first-served sites often fill by noon from May through September.
Hotels and B&B's
Highland House B&B: Mariposa, (559) 696-3341
This country cottage sits on a 10 acre plot surrounded by beautiful forest and hiking trails. It has three full bedrooms to choose from, each filled with traditional and elegant decor. Full kitchen access is offered to guests along with a game room, bicycles to explore the surroundings, TV/DVD, warm fireplace, and many other luxurious amenities. This home is only minutes from Yosemite National Park and 20 minutes from the AO meet place.
Little Valley Inn: Mariposa, (800) 889-5444
This bed and breakfast offers six contemporary cabins. Each cabin has a private entrance, private shower/tub, outdoor seating, satellite TV, and a complimentary buffet breakfast. AAA approved and about 20 minutes from the AO meet place.
Mariposa Lodge: Mariposa, (209) 966-3607 or (800) 966-8819
Conveniently located in the heart of old town Mariposa and less than 10 minutes from the AO meet place, this lodge has 45 modern rooms along with a pool and spa and nicely landscaped garden courtyard. Rooms include HBO and VCR, refrigerator, and coffee. Small pets welcome and this location is AAA approved.
Meadow Creek Ranch Bed and Breakfast Inn: Mariposa, (209) 966-3843 or (800) 853-2037
Originally an 1850's overnight stagecoach stop, this charming home is conveniently located in old country and 25 minutes from the AO meet place. On the grounds are two guest cottages, main house, old lumber mill, and ranch. Guests arise each morning greeted by a fresh and homemade family-style breakfast in the dining room. Each guest room is elegantly decorated with antiques and has a private bath. After a long day exploring the nearby sites guests can dip their toes in the seasonal creek, take a walk in the meadow, or view the scenery and wildlife from the front porch.
Miners Inn Motel: Mariposa, (888) 646-2244
This Inn offers 78 rooms complete with modern conveniences. Amenities include pool and spa, king and queen beds, coffee and continental breakfast, rooms with kitchenettes, and free local airport pickup. Less than 10 minutes from the AO meet place.
Poppy Hill Bed &Breakfast: Mariposa, (209) 742-6273 or (800) 58-POPPY
This charming restored country home is the perfect getaway for anyone looking to relax and enjoy the feeling of home away from home. Three full bedrooms are available to the guests, each filled with beautiful European and American antiques. Each bedroom is furnished with a queen oak-carved bed, private bath, and bathrobes. Guests can also enjoy the gardens surrounding the home, patio hot tub, and complimentary beverages and hors d'oeurves. Each morning convenient to your schedule, a full gourmet breakfast is served and outside dining is available. This location is about 8 minutes from the AO meet place.
Yosemite Bug Rustic Mountain Resort: Midpines, (209) 966-6666 or (866) 826-7108
This resort is located on a beautiful hillside surrounded black oak groves, about 10 minutes from the AO meet place. It offers renovated private cabins, Yosemite-style wood frame tent cabins, and classic hostel/group dorm beds in cabins. Enjoy non-processed and high quality fresh breakfast, lunch, and dinner at the Cafe in the main lodge. This location also offers access to laundry, Internet, and public phones. Guests are encouraged to explore Bug property trails and weekly live music.
Yosemite Motels: El Portal, Mariposa, Oakhurst (888) 742-4371
Five separate facilities: Cedar Lodge, Yosemite View Lodge, Best Western Mariposa, Comfort Inn Mariposa, and Comfort Inn Oakhurst. Amenities include casual and fine dining, pools, spas, and conference rooms.
Surrounding Attractions:
If you plan to spend additional time in Mariposa before or after your trip, you might want to take in some of the Gold Rush era historical sights in the area. The California State Mining and Mineral Museum located at the Mariposa County Fairgrounds, is an excellent place to begin with a collection that dates back to 1880 with over 13,000 artifacts, rare gold specimens, minerals, and gems! Then continue on Hwy 49 for a lovely drive through the historic and scenic Gold Country. Contact the Mariposa County Chamber of Commerce at (209) 966-2456 for more detailed information.
Yosemite National Park is also a great destination while you're in the area and its entrance is just a short drive from our Merced meet place. Visit the Virtual Visitors Center or call (209) 372-0200 for general park information. Any reservations for Yosemite accommodations should be made well in advance of your trip.