Maps & Travel Details
Directions, What to bring & Where to stay:
Use the following links (or scroll down the page) for the information you are looking for!
Maps & Directions:
Meet Place for Goodwin Canyon River Trips
Paved parking area in Stanislaus River Park (near the town of Knights Ferry)
Meet Time: 9:00 am
All-Outdoors Goodwin Canyon trips usually start at 9:00 am, but keep in mind that meet times may vary. Please refer to the information sent to you in your Trip Confirmation email, check with your group's organizer, or contact our office.
Note: If you plan to use a GPS navigation system or online mapping service, please use in conjunction with the driving directions we provide below.
Driving Directions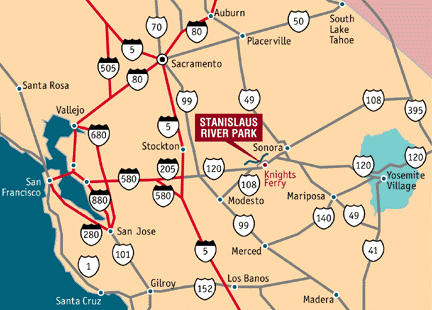 Take Hwy 120 to the Knights Ferry / Stanislaus River Park turnoff (11 miles east of Oakdale and 30 miles west of Sonora). Travel 1/8 mile on Kennedy Road to Sonora Road. Turn north on Sonora Road and travel 1/4 mile. The paved parking lot we use is called "Knights Ferry Recreation Area" and is located on the east side of Sonora Road (across the street from another dirt parking lot). Turn into the Recreation Area and make the first left where you will be greeted by All-Outdoors guides. If you have crossed the river, you have gone too far.

Drive Times and Distances:
San Francisco: 110 mi/ 2 hours
Sacramento: 90 mi/ 1.5 hours
San Jose: 108 mi/ 2 hours
Walnut Creek: 90 mi/ 1 hr 45 min
Los Angeles: 350 mi/ 6 hours
Angels Camp: 34 mi/ 45 min
These are approximate mileages and driving times and do not take into account any delays or stops. Please allow a little extra time to assure correct arrival time to the meeting place. Thank you!
General Information:
What's Included

Professional Guide, instruction, and equipment (April through May, and late October, see Wetsuit Information for added rental cost.)
Delicious fresh meal
River shuttle by bus to and from the Meet Place for your trip

What to Bring

Personal Medicine
Change of clothing for ride home
Waterproof sunblock, sunglasses with strap, hat, visor (optional)
What to Wear

Swimsuit
Quick drying shorts to wear over swimsuit is recommended for more comfort
Athletic shoes that are lace-up, no slip-ons or thongs
Long-sleeve shirt and pants for added sun protection and/or extra layering
Wool or fleece sweater/jacket, waterproof jacket or wetsuit (usually required April through May, late October, and in inclement weather)
While on the river, you need little other than your river attire. There is limited space available in a water-resistant bag for additional items, such as raingear or medication, that you might need during the day (no towels, please). This bag is usually available only during the lunch stop and at camp.
NOTE: For your comfort and safety, special clothing items, including a wetsuit, are generally required April - May, in late October, or during periods of inclement weather. If your trip takes place during a time period when wetsuits are required, see Wetsuit Information.
Please Do Not Bring:
Expensive watch, jewelry, radio, pets, and camera without water protection. Space is limited on the boat. Please note that storage of keys, wallets, and other valuables is the responsibility of each participant.
Local Weather
The important thing to remember about the weather in the Sierra Foothills is that it can change on short notice. It is always best to be prepared for any kind of weather situation.
Seasonal patterns do exist. In April and May, days are generally breezy and warm (60-70 degrees). Nights can be in the 50's; generally cooler during the earlier spring trips. The summer months are usually hot and dry (85-100 degrees). Night temperatures can range from the low 60's to the low 70's.
Even though these patterns exist, it is not uncommon to get a 90 degree day in May and a breezy, rainy day in June or July. It is always important to bring sun protection and cold weather gear to the river. You can decide which is most appropriate once you have arrived.
For specific questions, contact our Reservations office at (800) 247-2387.
Accommodations:
Campgrounds
Lake Tulloch Campground & Marina, Jamestown (800) 894-2267
Hotels and B&B's
Best Western plus Rama Inn, Oakdale (209) 845-2500 or (888) 415-2500
Holiday Inn Express, Oakdale (209) 847-9121 or (800) 465-4329

Surrounding Attractions:
The Stanislaus River Park draws nature lovers of all types year round. Swimming, fishing, hiking (and whitewater rafting!) are popular draws to the parks. Visitors interested in local information and history should make a point of seeing Knights Ferry and the US Army Corps of Engineers Visitor Center (209) 881-3517.

Knights Ferry boasts one of the few remaining historic covered bridges in California. At 330 feet, it is the longest covered bridge west of the Mississippi River. It is closed to vehicular traffic, but open to pedestrians and is a favorite subject for photographers.

At the north end of the bridge are the remains of the Tulloch Mill and the restored mill office. First operated as a flour mill in the 1860's, at the turn of the century it was converted into one of California's first hydroelectric plants. Portions of the old underground penstock used to transport water to the generators can still be seen on the hillside behind the mill office.

Upstream from the bridge are the concrete ruins of a dam built in the 1880's and used to collect and divert water to turn the mill's waterwheel.

At the end of the covered bridge you will find a hiking trail that is a favorite with visitors. The trail is across the river from the site of the Taken Rancheria where Native Americans displaced by gold rush settlers found refuge more than a century ago. Bedrock mortars, where Indians once ground acorns, are visible if one looks closely. The trail also leads to some sandy beaches, enticing swimming holes, and some favorite fishing spots along the river.
Come for the whitewater, and stay for the surrounding attractions!