1-Day Whitewater Rafting Trips
One full day of advanced rafting inside a sheer-cliff canyon
within a scenic temperate rain forest

Heavy Class IV+ and Class V rafting
12 miles
Lunch included
$279
SAMPLE ITINERARY: Cal-Salmon 1-Day Rafting Trips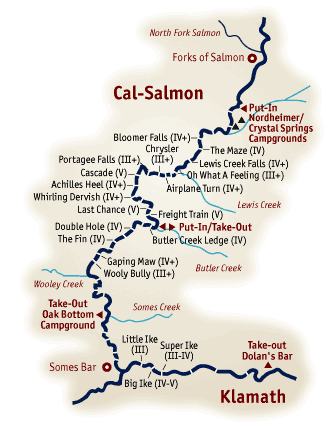 Meet in the morning, near Somes Bar
Sign-in, instruction
Class IV & V rapids
Riverside lunch
Class IV & V rapids
Class III-IV rapids
Take-out, shuttle
Trip ends mid-afternoon to late afternoon
Your trip begins like a bullet with Class IV+ Bloomer Falls, The Maze, and Lewis Creek Falls coming in a rapid succession. The canyon walls constrict tightly as we descend into this National Wild & Scenic River canyon. As the morning ends, we break for lunch just before one of the most challenging Class V sections of the river.
Last Chance and Freight Train rapids serve as a vivid reminder of the power of this awesome run. The final part of the day is spent on the lower section, where the river mellows some and allows for moments of relaxation and reflection.
The itinerary above may be altered due to a range of variables, including river flow levels, time of year, and other factors. Contact us if you have any questions.
THE NEXT STEP: Plan Your Trip
If you have made your decision you can start planning your trip by visiting the "Plan Your Trip" page where we make it easy for you to check availability and make a reservation. You can also contact us during our business hours by calling (800) 247-2387.