Travel Details
Directions, What to bring & Where to stay:
Use the following links (or scroll down the page) for the information you are looking for!
Maps & Directions:
Meet Place for North Fork Stanislaus River Trips
Calaveras Big Trees State Park (209) 795-2334
1170 East Highway 4
Arnold, CA 95223
Note: If you plan to use a GPS navigation system or online mapping service, please use in conjunction with the driving directions we provide below.
Meet Time: 9:00 am
All-Outdoors North Stanislaus trips usually meet at 9:00 am, but keep in mind that meet times may vary. Please refer to the information sent to you in your Trip Confirmation email, check with your group's organizer, or contact our office.
Driving Directions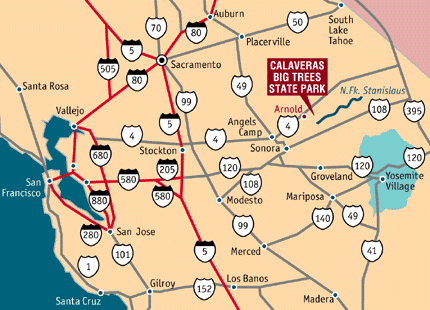 (Please use a California map in conjunction with this map)
From Hwy 99 near Stockton, take Hwy-4 East. Stay on Hwy-4 East for 46 miles. Once you reach the Hwy 49 intersection, continue straight on the new Hwy-4 East Bypass to avoid going into downtown Angels Camp. Continue on Hwy-4 East until you reach the Calaveras State Park entrance on the right side. Turn right immediately after the entrance toll booth.
We meet in the parking area just past the Park Headquarters. To get there, make a right once you leave the park entrance kiosk. This will take you past the Park Headquarters where you will turn left into the parking area. Look for the All-Outdoors guides and vehicles.
Drive Times and Distances:
San Francisco: 160 mi/ 3.5 hrs
San Jose: 150 mi/ 3 hrs
Sacramento: 125 mi /2.5 hrs
Stockton: 70 mi/1.5 hrs
Walnut Creek: 140 mi/ 2.5 hrs
Los Angeles: 400 mi/ 7 hrs
Angels Camp: 20 mi/ 30 min
These are approximate mileages and driving times and do not take into account any delays or stops. Please allow a little extra time to assure correct arrival time to the meeting place. Thank you!
General Information:
What's Included

Professional Guide, instruction, and equipment (April through May, see Wetsuit Information for added rental cost.)
Delicious fresh meals
River shuttle by bus to and from the Meet Place for your trip

What to Bring

Personal medicine
Change of clothing for ride home
Waterproof sunblock, sunglasses with strap, hat, visor (optional)
What to Wear

Swimsuit
Quick drying shorts to wear over swimsuit is recommended for more comfort
Athletic shoes that are lace-up, no slip-ons or thongs
Long-sleeve shirt and pants for added sun protection and/or extra layering
Wool or fleece sweater/jacket, waterproof jacket or wetsuit (usually required in April through May, and in inclement weather)
While on the river, you need little other than your river attire. There is limited space available in a water-resistant bag for additional items, such as rain gear or medication, that you might need during the day (no towels). This bag is usually available only during the lunch stop.
Please Do Not Bring:
Expensive watch, jewelry, radio, pets, or camera without water protection. Please note that storage of keys, wallets, and other valuables is the participant's responsibility.
NOTE: For your comfort and safety, special clothing items, including a wetsuit, are usually required April through May on the North Stan, or during periods of inclement weather. If your trip takes place during a time period when wetsuits are required, see "Wetsuit Information".
River Conditions (Real Time)
Real-time flow information is available for the North Fork of the Stanislaus on our Updated River Conditions page.
Local Weather
The important thing to remember about the weather in the Sierra Foothills is that it can change on short notice. It is always best to be prepared for any kind of weather situation.
Seasonal patterns do exist. In April and May, days are generally breezy and warm (60-70 degrees). Nights can be in the 50's; generally cooler during the earlier spring trips. The summer months are usually hot and dry (85-100 degrees). Night temperatures can range from the low 60's to the low 70's.
Even though these patterns exist, it is not uncommon to get a 90 degree day in May and a breezy, rainy day in June or July. It is always important to bring sun protection and cold weather gear to the river. You can decide which is most appropriate once you have arrived.
For specific questions, contact our Reservations office at (800) 247-2387.
Accommodations:
Campgrounds
Calaveras Big Trees State Park: (209) 795-2334, reservations (800) 444-7275
This beautiful park not only boasts some of the largest trees in the world, the Sierra redwoods, but it also serves as the meet place for our North Stanislaus trips. It also offers 129 campsites, 6 picnic areas, and hundreds of miles of established trails.
Goldstrike Village RV Park: San Andreas, (209) 754-3180
In the heart of Gold Country, this location offers 45 campsites and 20 RV hookup lots. Guests can enjoy their Olympic size swimming pool, clubhouse for large groups, hiking trails, and community BBQ areas. About 35 minutes from the AO meet place.

Golden Pines RV Resort: Arnold, (209) 795-2820
Located about two miles east of Calaveras Big Trees State Park, this resort offers RV, tent and rental sites. Amenities include restrooms, showers, laundry, swimming pool, playground, recreation hall, and nature trail.
Hotels and B&B's
Dunbar House B&B: Murphys, (209) 728-2897
Set in historic Gold Rush countryside, the Dunbar House 1880 offers 5 guest rooms each adorned with French and English antiques. Each room also contains a Norwegian fireplace for additional warmth, luxurious bed linens, and down comforters and pillows. Other amenities include TV, telephone, hair dryer, and herbal toiletries. Guests can also enjoy a candlelight gourmet breakfast in the dining room or outside in the century-old garden. About 35 minutes from AO meet place.
Dorrington Hotel B&B: Dorrington, (209) 795-5800
Built in 1852, this restored stage coach stop and resort offers guests a warm and inviting place to stay less than 20 minutes from the AO meet place. This historic hotel offers 5 guest rooms each filled with antiques and cozy furnishings, and a private cabin complete with a stone fireplace and spa tub. Guests are also welcome to dine in Restaurant 1852 which is just downstairs in the hotel and offers intimate ambience and fresh ingredients.
Murphys Historic Hotel: Murphys, (209) 728-3444 or (800) 532-7684
Originally built in the summer of 1856, this registered National Historic Landmark offers guests a chance to take a step back in time. It has 9 guest rooms located in the original historic building, and 20 rooms located in its modern lodge adjacent to the hotel. The historic hotel rooms are furnished with authentic period antiques, and to keep with the historic ambience they do not contain televisions or phones. The modern rooms still maintain the historic theme and amenities include television, phone, alarm clock, and coffeemaker. Guests can also enjoy the full service restaurant on the grounds and close proximity to the downtown theater and shops. Less than 40 minutes from the AO meet place.
Timberline Lodge: Arnold, (209) 795-1053
Less than 20 minutes from the AO meet place this lodge offers affordable quality and rustic charm. Each room is uniquely different and includes a private bathroom, phone, television, and air conditioning. Some rooms also include a freestanding gas fireplace. This lodge is centrally located in Arnold and close to nearby restaurants, wine tasting, caverns, or hiking and biking trails. AAA approved.

Gold Country Inn: Angels Camp, (209) 736-4611 or (800) 851-4944
This AAA approved Inn is located on the original main street in Angels Camp and about 45 minutes from the AO meet place. Some amenities include HBO/Cable TV, Internet access, microwave, and refrigerator. Pets are welcome upon approval.
Rental Vacation Homes
Tim Muetterties Realty, Arnold (800.692.3444)
Well-planned and implemented areas, each with its own variety of recreation facilities, provide you with unlimited choices in mountain cabins, homes, business opportunities, lots, and acreage in the North Stanislaus area.
Surrounding Attractions:
The North Fork of the Stanislaus runs through the heart of Calaveras Big Trees State Park. Many of our guests choose to spend an extra day visiting the Park to go hiking on the hundreds of trails it has to offer, and to see the giant sequoias and redwoods in their natural setting. Other activities in include cross-country skiing, evening ranger talks, numerous interpretive programs, mountain biking, and bird watching.
Bear Valley is a four-season destination mountain resort area offering unlimited adventure after the snow melts. Located on scenic Hwy 4 at 7,000' on the west slope of the Sierra Nevada, Bear Valley is easy to get to and worth the trip to this beautiful part of the mountains of Central California. Bear Valley's world class winter sports are followed by sensational summers, offering all types of outdoor recreation and adventure, annual music festivals and exciting special events.
There are many historically interesting sites, quaint towns, beautiful Sierra scenery, and recreational opportunities to be found in this section of Gold Rush Country that you will be visiting for your river trip. Contact the Calaveras County Chamber of Commerce (209) 736-2580 or the Tuolumne County Visitors Bureau (800) 446-1333 for additional information.