Maps & Travel Details
Directions, What to bring & Where to stay:
Use the following links (or scroll down the page) for the information you are looking for!
Maps & Directions:
Meet Place for Kaweah River Trips
Three Rivers Hideaway Camp (559) 561-4413
43365 Sierra Dr (Hwy 198)
Three Rivers, CA 93271
Note: If you plan to use a GPS navigation system or online mapping service, please use in conjunction with the driving directions we provide below.
Meet Time: 8:00 am
All-Outdoors Kaweah trips usually start at 8:00 am, but keep in mind that meet times may vary. Please refer to the information sent to you in your Trip Confirmation email, check with your group's organizer, or contact our office.
Driving Directions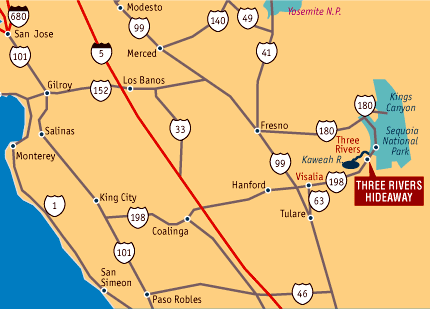 (Please use a California map in conjunction with this map.)
From Northern California: Take I-5 south to Hwy 152 east; turn south on Hwy 99 toward Visalia.

From Southern California: Head north on I-5 and merge onto Hwy 99 north after the Grapevine.
From Visalia: Take Hwy 198 east 35 miles toward Sequoia National Park. Hwy 198 becomes Sierra Drive just before Lake Kaweah. After passing the lake, travel about 5 miles through the town of Three Rivers and you will see the Three Rivers Hideaway on your left at the far end (east side) of town. The Three Rivers Hideaway is across the road from the We Three Bakery. Check in at the "drive-up" office and you will be told where to park and meet your AO guide.
Drive Times and Distances:
San Francisco: 260 mi./ 4 hrs
San Jose: 220 mi./ 3.5 hrs
Sacramento: 240 mi./ 4 hrs
Fresno: 75mi. / 1.5 hrs
Los Angeles: 210 mi./ 3.5 hrs
Visalia: 35 mi./ 45 min
Walnut Creek: 240 mi./ 4 hrs
South Lake Tahoe: 330 mi./ 6.5 hrs
San Diego: 340 mi./ 6 hrs
Sequoia National Park: 2 mi./ 5 min
These are approximate mileages and driving times and do not take into account any delays or stops. Please allow a little extra time to assure correct arrival time to the meeting place. Thank you!
General Information:
What's Included

Professional Guide, instruction, and equipment (April through May, see Wetsuit Information for added rental cost.)
Delicious lunch at a restaurant along the river
River shuttle by bus to and from the Meet Place for your trip

What to Bring

Personal medicine
Change of clothing for ride home
Waterproof sunblock, sunglasses with strap, hat, visor (optional)
What to Wear

Swimsuit
Quick drying shorts to wear over swimsuit is recommended for more comfort
Athletic shoes that are lace-up, no slip-ons or thongs
Long-sleeve shirt and pants for added sun protection and/or extra layering
Wool or fleece sweater/jacket, waterproof jacket or wetsuit (usually required in April through mid-June, and in inclement weather)
While on the river, you need little other than your river attire. There is limited space available in a water-resistant bag for additional items, such as rain gear or medication, that you might need during the day (no towels, please). This bag is usually available only during the lunch stop.
NOTE: For your comfort and safety, special clothing items, including a wetsuit, are usually required April through early June on the Kaweah, or during periods of inclement weather. If your trip takes place during a time period when wetsuits are required, see "Wetsuit Information".
Please Do Not Bring:
Expensive watch, jewelry, radio, pets, or camera without water protection. Please note that storage of keys, wallets, and other valuables is the participant's responsibility.
River Conditions (Real Time)
Real-time flow information is available for the Kaweah River on our Updated River Conditions page.
Local Weather
The important thing to remember about the weather in the Southern Sierra Nevada Foothills is that it can change on short notice. It is always best to be prepared for any kind of weather situation.
Seasonal patterns do exist. In April and May, days are generally breezy and warm (60-70 degrees). Nights can be in the 50's; generally cooler during the earlier spring trips. The summer months are usually hot and dry (85-100 degrees). Night temperatures can range from the low 60's to the low 70's.
Even though these patterns exist, it is not uncommon to get a 90 degree day in May and a breezy, rainy day in June or July. It is always important to bring sun protection and cold weather gear to the river. You can decide which is most appropriate once you have arrived.
For specific questions, contact our Reservations office at (800) 247-2387.
Accommodations:
Campgrounds
Three Rivers Hideaway Camp: Three Rivers, (559) 561-4413
The campground is conveniently located on the banks of the Kaweah River and is also the meeting place for our Kaweah rafting trips. This small privately owned RV park also offers tent camping and 3 cabins. Amenities include RV hookup, fire rings, picnic tables, showers, flush toilets, and dump station. The cabins can accommodate 2 - 4 people and all feature air conditioning, cable TV and linen service.
Lemon Cove Campground: Lemon Cove, (559) 597-2346
About a 30 minute drive from our meeting place, this campground nestled among citrus orchards just off Hwy 198, offers tent and RV camping. A recreation room, mini mart and laundry room are available in the main building. Guests can also enjoy an outdoor pool, playground and volleyball court. Other amenities include cable TV, RV hookup, dump station, hot showers and flush toilets.
Sequoia National Park: (559) 565-3134, reservations (877) 444-6777
All campgrounds but two inside the Park are on a first-come basis. Only Lodgepole and Dorst Creek campgrounds take reservations. Road closures inside the Park might occur in early Spring. It is advisable to call the Park Service for current conditions and information before you start traveling. The entrance to this beautiful Park is only a few miles away from our meeting place.
Hotels and B&B's
Comfort Inn & Suites: Three Rivers, (559) 561-9000 or (800) 331-2140
This large hotel is situated just off of Hwy 198, about 5 minutes away from our meeting place. All rooms have Internet access and Wi-Fi is available in the lobby. Weather permitting, you can relax on the sundeck by the pool or even in the hot tub. Complimentary continental breakfast is included.
Sierra Lodge: Three Rivers, (559) 561-3681
As you approach our meeting place from the west, you cannot miss the Sierra Lodge on your left lined with palm trees. Located only about one minute from our meeting place, this accommodation offers motel style rooms, some of which feature a fireplace, kitchenette, or private patio. Free wireless Internet access is available as well as an outdoor pool and small quiet library.
Lazy J Ranch - Best Value Inn: Three Rivers, (559) 561-4449
This small working ranch is located on the west side of the town, about 10 minutes away from our meet place. 18 motel style rooms, 2 two-bedroom units and 5 cottages surround a spacious lawn area with pool, volleyball court, and playground for children. Amenities include complimentary breakfast, laundry room, free movie rental, in-room TV, refrigerator, microwave, and phone.
Cort Cottage Bed and Breakfast: Three Rivers, (559) 561-4671
Cort cottage has a comfortable, tasteful interior and spectacular views of the surrounding meadows, mountains and wildlife. The fully-equipped kitchen comes stocked with breakfast fixings for you to prepare. WiFi internet available. Cort Cottage is located 1.1 miles from our meeting place.
Buckeye Tree Lodge: Three Rivers, (559) 561-5900
This Lodge can be found just below the entrance to the Sequoia National Park, about a 10 minute drive from our meet place. Enjoy the views of the Kaweah River and the mountains from the grassy picnic area behind the Lodge. 11 motel style rooms and 1 cottage (for larger groups) feature air conditioning, refrigerator, microwave, phone, and back doors to a patio (downstairs) or balcony (upstairs). A complimentary breakfast basket is also included.
Sequoia Motel: Three Rivers, (559) 561-1625
This motel offers 11 rooms and 3 cabins in a pleasant garden setting complete with an outdoor pool and wooden gazebo. All rooms have TV, air conditioning and coffeemaker. Cabins also feature kitchen, private patio, and a fireplace. It will only take you about 2 minutes to drive to our meet place from this location.
The River Inn & Cabins: Three Rivers, (559) 561-4367
You have choice of 10 motel style River Inn rooms, 4 riverfront cabins or a rental house. It is only a 5 minute drive from our trip meet place. Cabins have a full kitchen, and patio with a barbecue. "Breakfast in the bag" is delivered to your door every morning (River Inn rooms only). Amenities include cable TV, phone, refrigerator, microwave, and one of the cabins has a private hot tub!

ResCentre.com
This website directs you to lodging within and nearby Sequoia, Kings Canyon and Yosemite National Parks. Use the link for more information and a reservation form.
In addition to the accommodations mentioned on this list, there are many national chain hotels in the town of Visalia, just along Hwy 198 and about 30 miles away from our meet place.
Surrounding Attractions:
If you plan to spend additional time in the area before or after your trip, Sequoia National Park is a great place to visit. The entrance to the Park is only 8 miles east of our meet place on Hwy 198. Any reservations for accommodations in the Park should be made well in advance of your visit. Call the Visitors Center at (559) 565-3341 for Visitor Information.